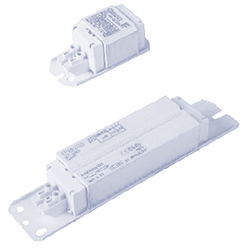 Fluorescent ballasts are intended for a low pressure mercury-vapour gas-discharge lamp that uses fluorescence to produce visible light called fluorescence lamps.
COMPONENTS FOR FLUORESCENT AND COMPACT FLUORESCENT LAMPS
Special application ballasts for fluorescent and compact fluorescent lamps
Spare parts
We produce a wide range (4 to 58 W) ballasts for fluorescent lamps used in various applications. Two different shapes are available, so we can find the right product for any client. We are focusing on the applications where features of magnetic technology still can not be matched.